[Critically, there's some important things to clear our before getting to this: I don't see the point in this, ranking music, anymore, as I don't much see in anything since the 8th of November. There are much more pressing and dire needs that demand our attention, but yet, we continue to derive meaning as we can in a world that increasingly drains hope. The little hope that exists to overcome also persists the belief that I am myself unable or unneeded to embark change, that the greater and more able world at large will work out the good from the bad; when I no longer feel that is possible, I will instead be out there working to make change. Until then, I haven't been and probably won't ever able to articulate exactly what I feel about these times. The fun has been drained from things I before enjoyed, and that's depression isn't it. C'est la vie.]
Best Music of 2016
You will notice a theme emerges among the selections, a theme not of my own doing. The songs and albums present here represent a world-wide collection of artists and people and humans and beliefs, and many if not most have reached the same conclusion: things are bad and getting worse. The music listed here is a lot bit dark, damaging, and hard to listen to for the weak of heart. It's soul and pattern is rooted in just not being able to find positivity in the current climate, and I hope more people will begin to see that the art reflects the times. This isn't Britney Spears's 1996 anymore. This is Solange's "A Seat at the Table" and Common's "Black America Again" and Blood Orange's "Freetown Sound" and the return of A Tribe Called Quest to say something important. I hope everyone starts listening.
Albums
David Bowie – Blackstar
Honorable mention pick because I myself don't listen to this as much as possible, though I wouldn't ask that of anyone – this is a dying man's pitch for relief, and by its power and circumstance deserves ever credit it is given.
Bon Iver – 22, A Million
Opinions are divided heavily on Bon Iver's third album, a strange amalgamation of dreams and nightmares filtered through vocoders and auto-tone. Underneath, however, is the same endearing Bon Iver that has always remained more in tune with the human spirit than many others, and yet here it is given Justin Vernon's full voice and dynamic. I think this record is more clear and concise than his previous.
Whitney – Light Upon The Lake
This album was a white light in a year of dreariness, and was the perfect soundtrack to a summer spent in requiem. It remains my place to go when I need hopeful distraction. A true return to power ballads and pop rock for the ageless.
A Tribe Called Quest – We've Got It From Here, Thank U 4 Ur Service
There's not a song that made my overall list, but that's not the import of this album – it's the first in a long line of what I hope is the anthem call for the times: of protest, of the black people, and of fuck this shit. Hip Hop will rule the future again if we hope for a better millennium.
Solange – A Seat at the Table – Cover Art of the Year
See above; though in Solange's defense, this is the R&B equivalent. The title says it all, which is more good than her sister has ever done for anything. Let's make more music that demands protest.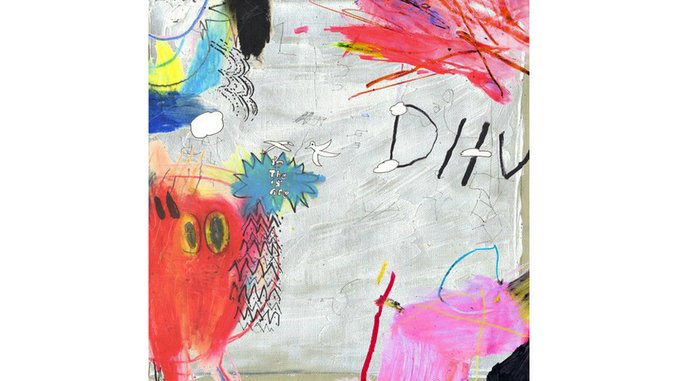 DIIV – Is The Is Are
I can't ever get over just how in touch this record is with a seriously hard-to-pin feeling for our generation: one of onchalance and lack of direction amid chaos. There's not much use in trying to understand what he's saying, but the music drives and bloats until reaching a denouement that announces dark defeat, as we all may feel.
Frank Ocean – Blonde
This is a Frank Ocean self-portrait, without his strongest tracks, but with his greatest vision. It's the album he's always wanted to make, and of course that means it's top notch.
Bloc Party – Hymns
This album is nowhere else found in anyone's Best Of lists, and maybe that's okay. The album is summed up well when Kele sings "See I don't know what the future holds / but I hope we see it together / 'cause rock and roll has got so old." This is Bloc Party's first truly sincere effort to speak from their heart, with its slow drag, empty melodies, and dark tones of growing old in a world that just doesn't get it.
Radiohead – A Moon Shaped Pool
Every other Best Of list has this album somewhere at 20, which is fine, because no one seems to be able to deny how great it is. But I feel there's a point everyone has reached where they get tired of repeatedly saying "Radiohead put out the best record of the year" which they seemingly do, and have done here again. A Moon Shaped Pool is their magnum opus, as they've found a way to continue to surprise us not by drifting further from the center but instead by writing from the core. The simple acoustic melodies, stripped down production, and earthy tomes are derivative of Thom Yorke's divorce, but have more to do with coming to peace than continuing to fight. As he cries in "Daydreaming" that the dreamers never learn, but the band is "just happy to serve you." Their just trying to reconcile that art isn't and hasn't been enough, that no one has really ever listened to their pleas, and that life continues. From the best review of this record I read, Pool is a "middle-aged sigh of relief." I'm right there with them.
The 1975 – i like it when you sleep for you are so beautiful yet so unaware of it
There are many ways to describe and even listen to this record that reaches 78 minutes full. But amid their scrawling pastiche from power pop to synth rock to disco to hip hop to jazz, The 1975 have created a truly magnanimous piece of work. It's so rich with details and layers that I continue to discover ways to enjoy each song with every listen. I can easily pick out a few tracks for a quick listen, or take it in full without feeling drained. They've found a way to do every thing possible, and pulled it off gloriously.
Jim James – Eternally Even
Another example of using others' reviews, this album has been described as Jim James's What's Going On (Marvin Gaye) moment; that is, that James has reached a boiling point. His music cries for peace, understanding, and effort. Truly workable, physical effort from everyone. In the same way that Radiohead reconciles their place in a hopeless world, James speaks as clearly that he remains Eternally Even in a world where "We Ain't Getting Any Younger" and things get worse. And in a year without hope, and a year full of records expressing just that, Eternally Even is the king for only just a little bit of hope.
Songs
20. "Kiss It Better" – Rihanna
"Been waiting on that sunshine boy, I think I need that back."
19. "Angela's Eyes" – Guy Garvey
"Good book but you got no proof."
18. "Girl Loves Me" – David Bowie
"Where the fuck did Monday go?"
17. "Waste of Breath" – DIIV
Spot on, listen to this shit: "It's no good, it's a waste of breath to tell the man in me that he's got something better to do."
16. "Dull Times/The Moon" – Band of Horses
"Listen close wherever you go, dull times let 'em seep into your bones."
15. "If I Believe You" – The 1975
"I mean, if it was you that made me you probably shouldn't have made me atheist."
14. "White Ferrari" – Frank Ocean
"So I text to speak, lesser speeds / Texas speed, yes."
13. "Landed On Mars" – Atlas Bound
"Got to the side on what I should focus on, I'm just a participant."
12. "No Matter Where We Go" – Whitney
"We'll make a livin' darlin', down the road."
11. "Don't Touch My Hair" – Solange
"Don't touch my hair when it's the feelings I wear."
10. "Moving On" – Roosevelt
"Moving on so I just see this is on my own."
9. "True Love Waits" – Radiohead
Line of our generation: "I'm not living, I'm just killing time."
8. "Different Drugs" – Bloc Party
"It's like we're on different drugs."
7. "Normal American Kids" – Wilco
For everyone who's ever wondered why people try to fit in: "Remind myself long ago, 'fore I could drive and 'fore I could vote, all the time holding a grudge 'fore I knew people could die just because."
6."715 – CR∑∑KS" – Bon Iver
"Turn around, you're my A-team."
5. "Best To You" – Blood Orange
"Part of me is faking, faking it all just for fun."
4. "Somebody Else" – The 1975
"I'm looking through you while you're looking through your phone and leaving with somebody else."
3. "Present Tense" – Radiohead
"This dance, it's like a weapon in self-defense against the present tense."
2. "Here In Spirit" – Jim James
"If you don't speak out, we can't hear it."
1. "Ultralight Beam" – Kanye West
This is the greatest song of the millennium, by a wide and untouchable margin.
"I'm tryin' to keep my faith."
The lot from which I have collected and thus chosen:
The 1975 – i like it when you sleep, for you are so beautiful yet so unaware of it
Atlas Bound – Lullaby EP
Bad Suns – Disappear Here
Band of Horses – Why Are You OK
Bat for Lashes – The Bride
Ben Harper & The Innocent Criminals – Call It What It Is
Blink 182 – California
Bloc Party – Hymns
Blood Orange – Freetown Sound
Bon Iver – 22, A Million
Chairlift – Moth
Chance The Rapper – Coloring Book
Common – Black America Again
David Bowie – Blackstar
Deftones – Gore
Dopelemon – Honey Bones
Dr. Dog – Psychedelic Swamp
Dr. Dog – Abandoned Mansion
Drake – Views
Dylan, Bob – Fallen Angels
Chairlift – The Moth
Deftones – Gore
DIIV – Is The Is Are
Drake – Views
Explosions In The Sky – The Wilderness
Gallant – Ology
Guy Garvey – Courting The Squall
Honne – Gone Are The Days [Shimokita Import]
Honne – Warm On A Cold Night
Cole – 4 Your Eyez Only
Jim James – Eternally Even
The Jezabels – Synthia
Kings of Leon – Walls
Lapsley – Long Way Home
Lily & Madeleine – Keep It Together
Little Green Cars – Ephemera
Local Natives – Sunlit Youth
M83 – Junk
Nada Surf – You Know Who You Are
Olsen, Angel – Woman
Peter, Bjorn, & John – Breakin' Point
Radiohead – A Moon Shaped Pool
Roosevelt – Roosevelt
Rüfüs – Bloom
Shura – Nothing's Real
Solange – A Seat at the Table
St. Lucia – Matter
A Tribe Called Quest – …We've Got It From Here, Thank You 4 Ur Service
Travis – Everything at Once
Kanye West – The Life of Pablo
White Lies – Friends
Whitney – Light Upon The Lake
Wilco – Schmilco
Wye Oak – Tween
Nico Yaryan – What a Tease